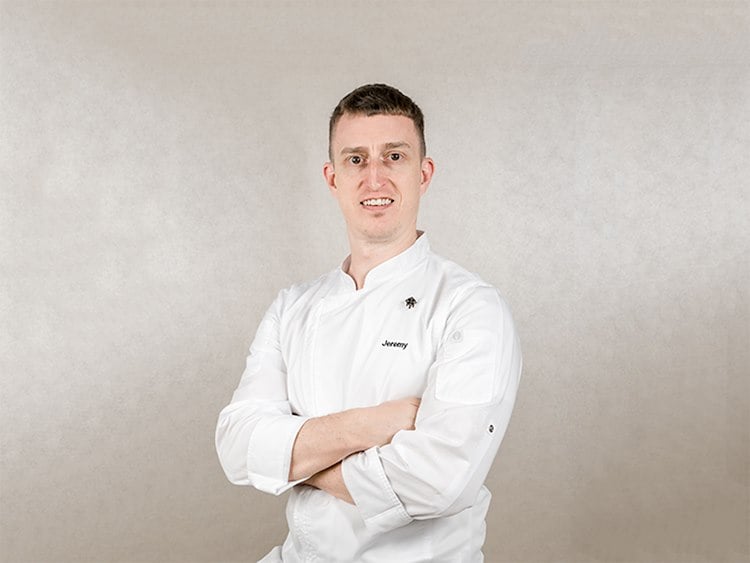 Jeremy Harris - Executive chef
Jeremy is from Michigan, USA, and he graduated from the Culinary Institute of America, in New York, in 2002. "I decided at around 18 years old that I wanted to become a chef because I realized I had passion for this," he says. "I started working in restaurants, basically by accident, at 14 years old. During this time I realized that I had culinary talent and that I had a creative eye for culinary and food detail."
His rise up the career ladder was swift, becoming executive chef when he first moved to Southeast Asia, in 2007, and became responsible for all culinary operations at the five-star Miri Marriott Resort, in East Malaysia. Three years later he was executive chef at New World Saigon Hotel, another Marriott property.
An extensive period in China followed. Jeremy became executive chef of the Renaissance Shanghai Zhongshan Park Hotel in 2011, and later transferred to the Marriott Hotel Shanghai City Centre, both of which being Flagship Marriott properties at the time. Jeremy later left Marriott to work at the prestigious Fairmont Peace Hotel in Shanghai.
After a very successful tenure in Shanghai, Jeremy relocated to Bangkok where he worked for the Sukosol Hotel Group as Executive Chef and Director of Food and Beverage. During this time Jeremy also began to develop a strong passion for sustainability in cuisine and within the Food and Beverage operation. Now after another tenure away from Marriott Jeremy is very happy to return to the Marriott family and also to return to such a special hotel like The Athenee Hotel Bangkok.
"Being a chef can be a lot of pressure, but it is what I really love to do," he says. "Even after working a long day I like to cook at home because I love to do so. I also like the dynamics of the job. It is technical, it is artistic, it is financial, it requires intelligence, strong social ability, and creativity. This business also changes so much and is always evolving. I just love it."
Jeremy lists three qualifications for being a successful chef: Be creative, be humble, and be willing to learn every day.
Does he have a favorite cuisine? "That's difficult! But I love Mediterranean flavors, which encompasses many different cuisines. I love Latin cuisines and using ingredients native to Latin America and in the United States. I also love Thai food, especially after living here for six years.
"I was classically trained in French cuisine so classic French cuisine and modern French cuisine is still great too. Food and cuisine now is so global. Access to ingredients, recipes, and inspiration is so easy in today
'
s world."