FAMILY FESTIVE CELEBRATION OFFICIAL CHRISTMAS TREE LIGHTING CEREMONY
Come join us as we kick off the holiday season with a variety of family activities, as well as the excitement of a photo opportunity with Santa Claus and our life-size gingerbread house.
Activities include a magic show, gingerbread house decoration, Yule log cake decoration, carol singing, and more.
Following all the activities will be the official ceremony to switch on the tree lights, which all guests are welcome to enjoy.
Children have their own appetizer pass-around while adults take it easy with a festive beverage.
All proceeds will go towards helping disadvantaged communities.
This event is in partnership with Central Thailand Mission, a non-profit charity foundation and Shrewsbury International School Bangkok is proud to support a range of activities and musical performances.
THB 1,100 per adult and free one child including one beverage for the adult.
THB 600 per additional child.
Venue: Lobby & Rain Tree Café
Date: Sunday 4 December 2022
Time: 03.00 P.M. - 07.00 P.M.
All prices are inclusive of 10% service charge and applicable government taxes.
FESTIVE SEASON 2022-2023
The coming holiday season is a time full of happiness and love. We invite you on a culinary journey at The Athenee Hotel, Bangkok with a variety of epicurean dining experiences showcasing our luxurious flavors of the season for your unforgettable festive memories.
Join us by taking these early bird advantageous offers for embracing this magical time of the year.
ATHENEE WISHES HAMPER COLLECTION
An Athenee hamper from The Bakery expresses your heartfelt wishes and season's greetings to family, friends and colleagues.
These hampers reflect the royal roots of our hotel and include specially selected homemade goodies like a mini gingerbread house, fruitcake, Christmas stollen, butterfly cookies, Christmas cookies, panettone, pralines and Christmas pudding.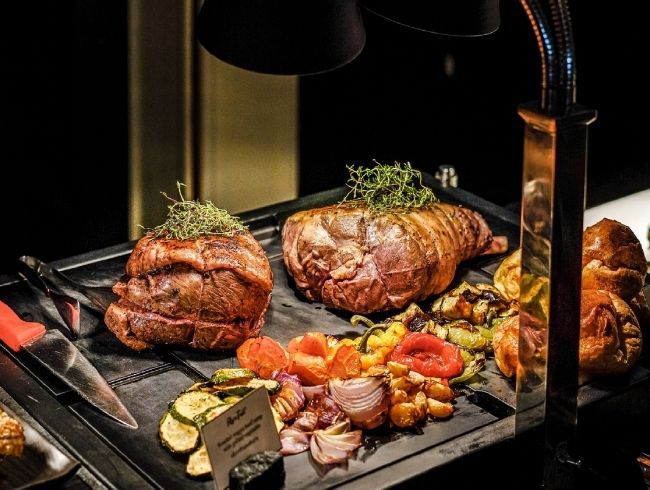 BEST BANGKOK BUFFET
The Rain Tree Café offers extravagant brunch, lunch and dinner buffets that will tempt you with unlimited fresh imported and local farmers delivered seafood, deluxe meet carvings, mouthwatering live cooking stations, dim sum, and a wide array of Asian and International favorites.
Thursday Dinner 06.00 P.M. - 10.00 P.M. THB 1,800
(Earn up to 1,800 1,013 points and Redeem from 10,834 points)
Friday Lunch 12.00 P.M. - 02.30 P.M. THB 1,300
(Earn up to 731 points and Redeem from 7,824 points)
Saturday Lunch 12.00 P.M. - 02.30 P.M. THB 1,500
(Earn up to 844 points and Redeem from 9,028 points)
Friday & Saturday Dinner 06.00 P.M. - 10.00 P.M. THB 2,100
(Earn up to 1,181 points and Redeem from 12,639 points)
Sunday Brunch 11.45 P.M. - 03.00 P.M. THB 2,600
(Earn up to 1,463 points and Redeem from 15,649 points)